THIS DRAWING HAS ENDED. STAY TUNED FOR THE NEXT ONE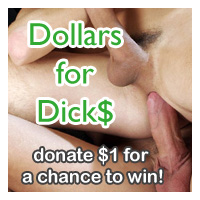 With just a few hours left before the drawing, I'm excited to say, after some last minute developments, the prize for May is now… drum roll please… a new Fleshjack sex toy!!!
The randomly selected winner will get to choose their very own Fleshjack – any color, opening style and inside texture.
If you've never had the pleasure (and I mean pleasure) of using one of these sex toys, then you are seriously missing out. It's an amazing experience… I've had one for years and it never lets me down. You will have one of the most intense orgasms you've ever had 🙂
So how do you win? The Dollars For Dick giveaway is simple… for each $1 you donate, you will earn an entry into the free giveaway drawing. There are only a few hours left though, so get started… click the "Donate" button on the top of the page and get yourself entered in this month's free giveaway. Donations are accepted and processed securely through PayPal.
Thanks and as always, happy wankin!!
~JP
THIS DRAWING HAS ENDED. STAY TUNED FOR THE NEXT ONE